River Cruising: All You Need to Know
River cruising is a wonderful way to unwind, observe the world float by at a leisurely pace and discover the cities, towns and countryside of both European and exotic destinations worldwide. While sharing some similarities, river cruising also has some major differences from ocean cruising.
River vessels tend to be smaller than ocean cruise ships, especially in Europe, due to being constrained in width and length to accommodate smaller docks and sail beneath low bridges. Unlike ocean cruises, riverboats visit a new port every day, sometimes even more than one, enabling passengers to explore a variety of different destinations. Excursions on land are abundant, providing busy days of culturally-rich activities. Typically a full day onboard is uncommon, however there is still plenty of cruising time to enjoy the amenities onboard, including evening sailings on select itineraries.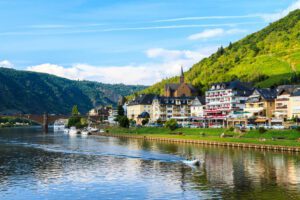 It is important to pack layers to deal with unpredictable weather and comfortable footwear, as numerous tours involve walking and being active. The entertainment onboard is often much more low-key than a traditional ocean cruise, with the primary attraction being the passing scenery and ports of call. The intimate setting of river ships allows passengers to get to know each other quickly and encourages you to make friends with fellow travellers.
Europe is the leading destination for river cruising globally, and it is an excellent place to begin if you've never tried it before. The Rhine River, which runs through Switzerland, Liechtenstein, Austria, Germany, France and the Netherlands, and the Danube River, which flows from Germany to Romania, passing through Austria, Slovakia, Hungary, Serbia and Bulgaria, are the most popular rivers for cruising. The typical length of a cruise along these rivers is eight days, although shorter three- and four-night options are also available, which are ideal for first-timers.
If you're hesitant about taking your first river cruise, you could try a brief European river cruise before committing to a longer trip. This can help you get a sense of what it's like and whether you enjoy it.
Check out our latest cruise offers, here, or contact us to book your dream river cruise today.
www.touramerica.ie
01 8173558